05. Oct. 2017
5 October 2017 the Grundfos Prize 2017 was presented to Professor, Ph.D., Irini Angelidaki from Technical University of Denmark, DTU Environment. The professor received the 15th Grundfos Prize. The Prize of 1 million DKK is presented by Poul Due Jensen Foundation.
Irini Angelidaki received the annual Grundfos Prize with a big and honoured smile. The Prize was presented by Niels Due Jensen, Chairman of the Poul Due Jensen Foundation. Irini's many years' work within bioenergy has always been the essence for the researcher:
"It is a great honour to receive the Grundfos Prize, and I see it as a big recognition of my own work – but to a great extent also an honour for the students and employees who have contributed to the research results" says Professor Irini Angelidaki. It is the 7th time a researcher from DTU receives the Grundfos Prize, which has been awarded since 2002.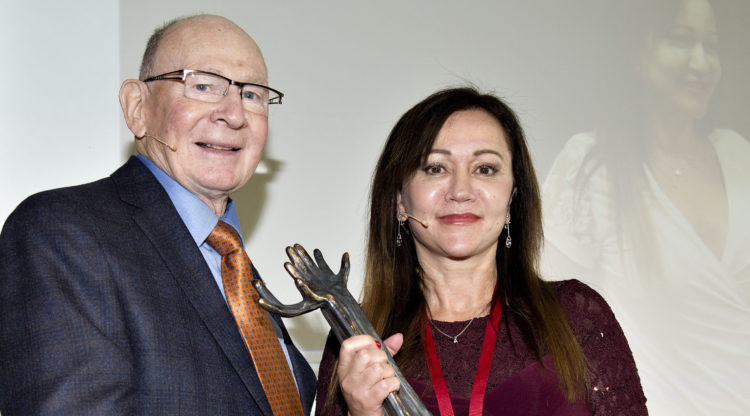 Theme of the Prize focuses on sustainability
The theme of the Grundfos Prize 2017 was "Technologies enabling the transition to a fossil-free society", a theme which harmonises well with Grundfos' core values. We wanted to appeal to a broad group of researchers with focus on sustainability in various technological contexts, and this wish was fulfilled.
Developing technologies for the future
Irini Angelidaki was awarded the Grundfos Prize as a recognition of her research within biogas and biotechnology. Her research has contributed considerably to improve the efficiency of extracting bioenergy in the form of biogas from biomass and waste. This way non-fossil energy sources, which otherwise would go to waste, are utilised, and the energy is brought in a form, which can be directly stored and utilised in the existing infrastructure of society. Professor Angelidaki has developed a technology for injection of hydrogen in the biogas-reactor and subsequent biological transition of carbon dioxide and hydrogen to methane and water. Through this technique the biogas-process can serve as storage technology for renewable energy from for example sun og wind with hydrogen as an intermediate station, and at the same time carbon dioxide emission is further reduced. This process is patented and on the way to become utilised industrially.
Social responsibility and sustainability
The Grundfos Prize 2017 was presented at an impressive ceremony 5 October at the Poul Due Jensen Academy in Bjerringbro, where among others Tommy Wølk, Code of Care, and Peter Nørgaard, founder and former Director of Creativ Company, talked about social responsibility in the workplace. The philanthropy NGO Practical Action's Energy representative, Aaron Leopold, closed the ceremony and talked about "Power for all".
Contacts
For further information and statements, please contact:
Executive Director, chartvig@grundfos.com, mobile no. (+45) 2373 2636
Professor, Ph.D. Irini Angelidaki, iria@env.dtu.dk, mobile no. (+45) 3061 3889