12. Nov. 2021
At the Grundfos Prize ceremony on 11 November, three talented Grundfos students were rewarded for their contributions to Grundfos: Søren Thalund, Bartosz Kurkiewicz, and Jakob Vester Nielsen each receive DKK 25,000.
The Grundfos Prize Student Award is a new initiative by the Foundation in collaboration with Grundfos, allowing managers to nominate talented students who have contributed to positive developments at Grundfos in Denmark in connection with their study program in the fall semester 2020 and/or the spring semester 2021.
Candidates could be nominated in one of the following student categories:
Student Worker
Student Intern
Project Student (a group of project students, who have collaborated on a project, can also be nominated together)
This year, there were 11 nominations in total; 2 groups and 9 individuals. Next year, we hope to expand the award to all Grundfos students.
Winners
The three winners have been selected by a Grundfos Jury, and each winner receives a diploma and a reward of DKK 25,000.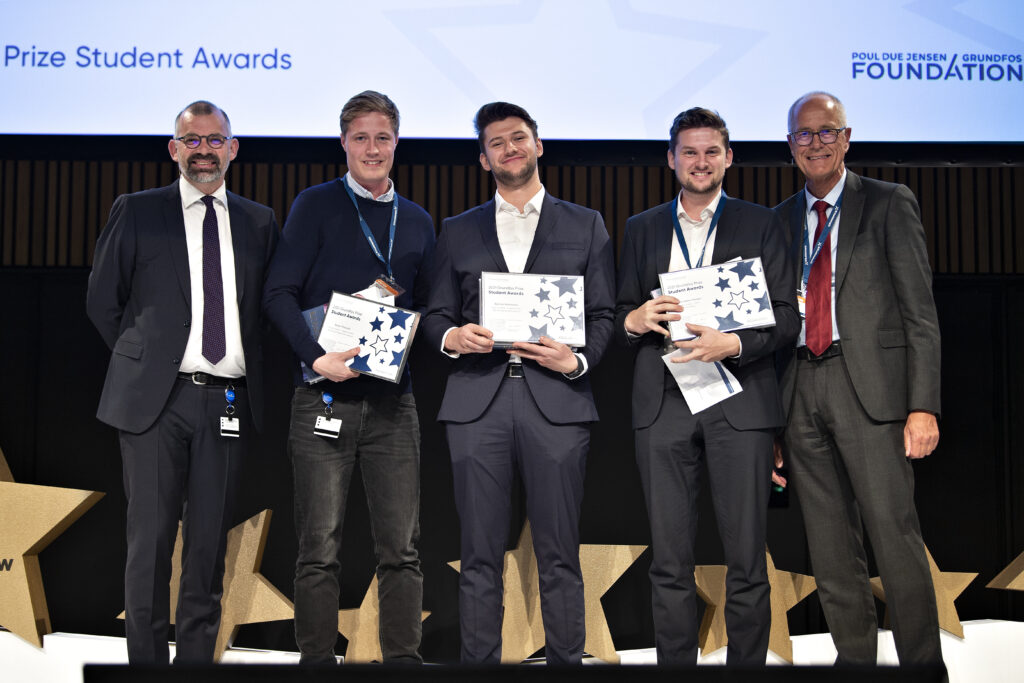 From left: Kim Nøhr Skibsted, Søren Thalund, Bartosz Kurkiewicz, Jakob Vester Nielsen and Jens Maaløe. Photo: Lars Holm
The 2021 Student Awards go to:
Søren Thalund 
Nominated by: Lasse Søgaard Ledet, Lasse Hvidbak Østergaard and Anders Bøge Jensen
Søren has throughout his studies played an important role in many development projects and related strategic initiatives. Since 2019, Søren has dedicated a vast amount of his time to support important technology and development activities at Grundfos using Simulation Driven Development, alongside his studies at Aarhus University.
"He has shown great collaboration skills across functions, cultures and projects. He has been accountable by delivering tasks on time, distributing his knowledge to his peers and taking ownership of finding a solution the projects and tasks that are assigned to him. He has contributed to delivering better insights, allowing us to move from safety factors to statistics. This shows customer centricity from the lens of simulation driven development,"  says Anders Bøge Jensen, Senior Manager, Mechanical Design and Simulations
Bartosz Kurkiewicz

Nominated by: Freddy Bonde, Vanja Adamović, Mette Lindberg Bregendahl and Henrik Hvid
Bartosz has been a highly valued student worker in AME since he started at Grundfos in September 2019. From day one, he has been a role model, showing accountability for his tasks and responsibilities and he is highly appreciated for his collaboration across boundaries in Grundfos.
"Each semester, Bartosz has made his university projects at Grundfos – always being proactive and exploring opportunities to combine real challenges in Grundfos with the criteria for his projects. The outcome from Bartosz's projects have been used in improving our business processes," says Mette Lindberg Bregendahl, AME Director, Manufacturing Excellence
Jakob Vester Nielsen
Nominated by: Peter Trillingsgaard, Morten Riis and Emil Svaneborg Mathiasen
Jakob has used his strong analytical skills to help further position Grundfos as a trusted advisor on climate and water policy through building policy papers, preparing public appearances, building a water platform in the World Economic Forum, and other important assignments.
"He has from day one made a massive impact in the Public Affairs and Group Communications team, enabling the department to position Grundfos as an industry leader in climate and water. He also took it upon himself to deliver policy analysis and business support equivalent to what you would expect from a much more senior employee," says Peter Trillingsgaard, Group Vice President, Group Communication, Public Affairs & Sustainability Engagement.