22. Jan. 2021
The Grundfos Foundation has released 1m DKK for from its disaster relief reserve for the earthquake victims of Western Sulawesi in Indonesia.
A 6.2 magnitude earthquake struck the West Sulawesi Province in Indonesia on 15 January. Meteorological, Climatological and Geophysics Agency (BMKG) recorded 32 aftershocks with lower magnitudes in the province until 16 January morning.
More than 18,000 people have been temporarily displaced in 10 evacuation sites within the two districts. Numbers are likely to increase as rescue operations and assessments continue.
The Indonesian Agency for Disaster Management (BNPB) has reported 90+ people killed and 826 people injured by the earthquake in the districts of Mamuju and Majene.
Heavy damages have been reported by both districts, including two hospitals, 25 schools, two hotels, a community health center, Mamuju Seaport, and over 300 houses.
Grundfos Indonesia and the Foundation join forces
The Foundation's strategic partner, Water Mission, has received DKK 1 million (USD 163.000) for immediate disaster relief to address urgent needs such as safe drinking water and water purification tablets. Grundfos Indonesia has also reached out to Water Mission's Indonesian branch, Waha Mitra, with logistical support.
"Grundfos Indonesia is part of the neighborhoods affected by this disaster, and we are committed to contributing to the relief efforts now underway, thanks to the generosity of the Foundation and the collaboration with Water Mission. On behalf of our company and all the employees, our thoughts and prayers are with everyone who is affected by this disaster."
Radinal Latuconsina, President Director, Head of Sales , Grundfos Trading Indonesia
With an existing Indonesia office, Water Mission is uniquely positioned to respond to this disaster through its established disaster response partnerships, enabling them to quickly assess and respond to disasters and provide emergency safe water.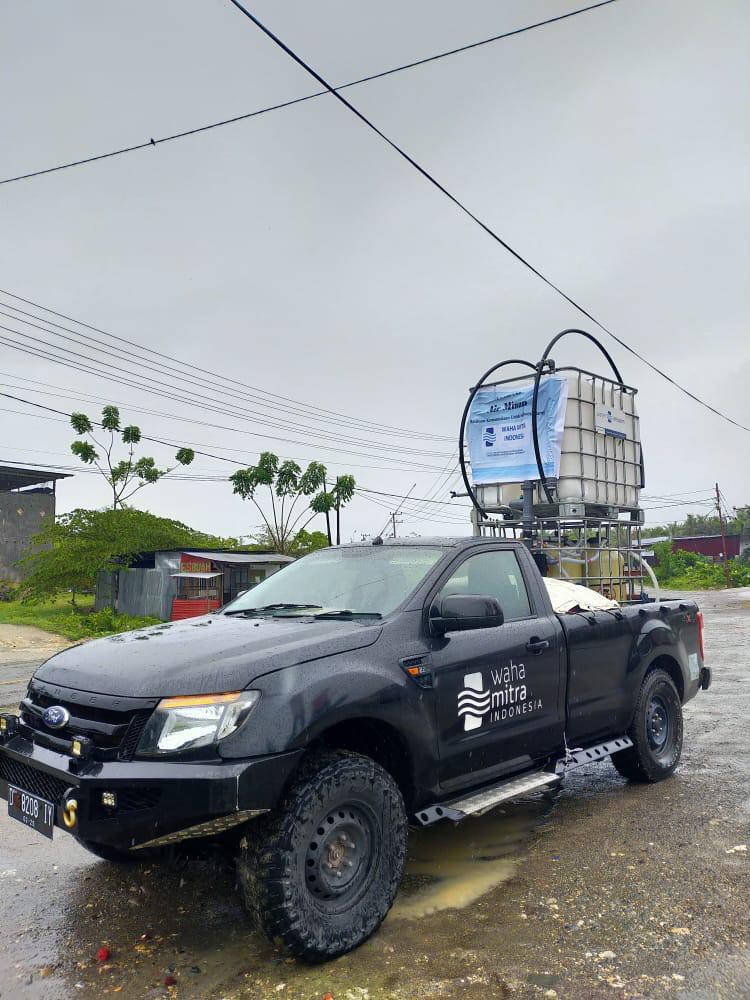 Water Mission Indonesia (Waha Mitra) water distribution truck. Photo: Water Mission (Twitter)
The last time a major disaster struck Sulawesi was the tsunami in 2018, where a similar amount was released to Water Mission. You can find out more about previous disaster relief funding here.