25. Mar. 2022
The Foundation has approved community grants worth almost 9 million DKK (1,2m EUR) for local social initiatives all over the world. Additional emergency funding of 2.7m DKK (268,000 EUR) is also on the way to local organisations helping refugees in Poland Hungary and Slovakia.
Title and description
Location
Organisation
Amount (EUR)
Adaptation of technical rooms for teaching purposes
Poland
Bialsko Podlaska Ecological
Foundation
40,000
Alma's Intelligent Garden (Almas Intelligente Have)
Denmark
Mølleskolen
128,000
Expanding safe water points in upper west Ghana
Ghana
Water4
86,700
Supporting water as a business in Ochicha
Nigeria
RECTOR CARES FOUNDATION
134,800​
Improvement of Dodoma Water Management for better food security
Tanzania
ADDA – Agricultural Development Denmark Asia
137,200
Integration through jobs in Aarhus area
Denmark
Niis
57,200
Sports summer camp for orphans
Serbia
Aktiv Novi Sad
35,000
Affordable Irrigation Pilot for smallholder farmers in Anyenamae and Boafre
Ghana
​Blue Gold Works
50,000
Red Alert Robotics Sponsorship
USA
Red Alert Robotics
8,900​
Improved water access through community centers in Escobar
Argentina
​Proyecto Agua Segura
133,000
Sustainable water access and sanitation in Cebu, 2022
Philippines​
​ Water and Life Philippines
100,000
Open access book on membrane filtration for the global community of water professionals
Netherlands
​ IHE Delft Institute for Water Education
27,500​
STEM network and camps for girls and role models in Denmark
Denmark
High5Girls
59,000
Employment support program for special needs graduates in Chennai
India
Ability Foundation
20,500
Female entrepreneurs in WASH
Ghana
Bridge for Billions
97,000​
Scholarships against social exclusion in Algete
Spain
Fundación Balia
14,900
Training center for people with disabilities in Bajío.
Mexico
Juntos
64,000
Total
1.2m EUR
In 2022, the Foundation has allocated 20m DKK (2.7m EUR) in total for support to community engagement by Grundfos companies. Find out more here.

Rector Cares Foundation works in Obuofia Community in Nigeria.
Local aid via Grundfos companies to help out refugees from Ukraine
An additional 5m DKK (EUR 672,000) has been made available to Grundfos companies in Ukraine's neighbouring countries for local emergency relief via the Poul Due Jensen Community Engagement Grant for local churches, associations and organisations providing assistance to the refugees from Ukraine.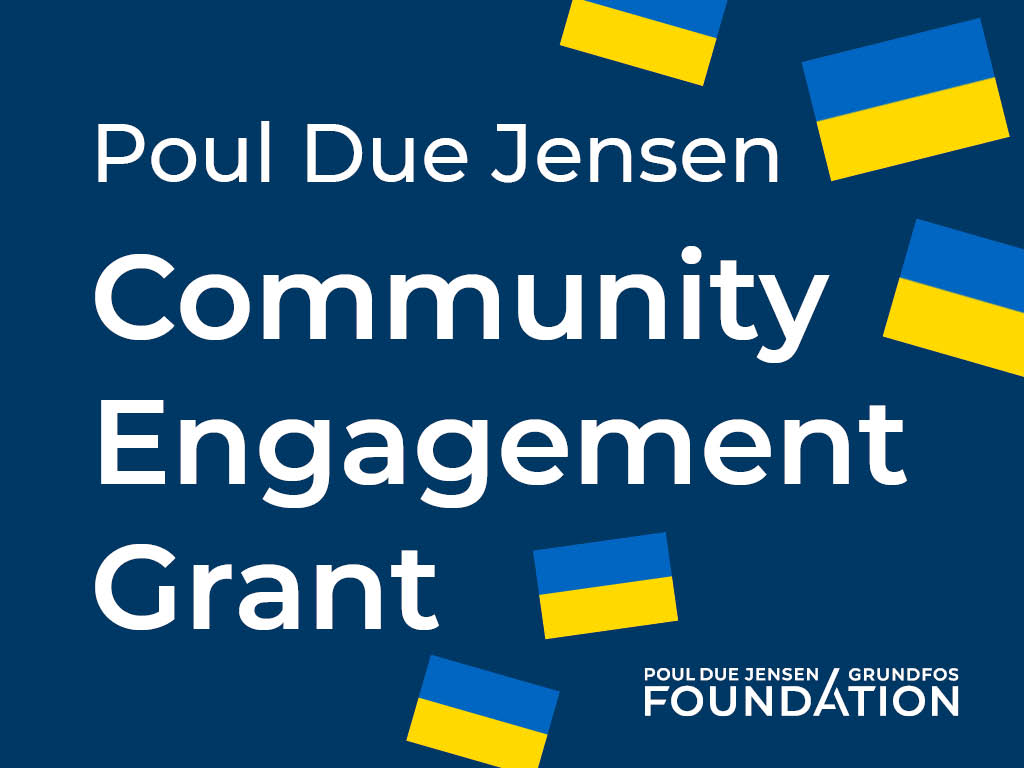 The first batch of emergency grants have been approved and are on their way to assist 9 organisations in Hungary, Poland, and Slovakia.
Purpose of grant
Country
​Organisation –
​​Amount (EUR)
Humanitarian aid for Ukraine
Poland
Polska Akcja Humanitarna
EUR 50,000​
Humanitarian support for the victims of war in Ukraine
Poland
EUR 50,000​
Medical assistance for Ukraine
Poland
Polish Medical Mission
EUR 50,000​
Ukrainian children in need
Poland
SOS Children's Villages – Poland​
EUR 50,000​
Rediscover home in mind and soul – Budapest
Hungary
VONESZO Hátrányos Helyzetűeket​
EUR 50,000​
Emergency aid to Ukraine – Budapest
Hungary
EUR 50,000​
Long term activities for the refugees from Ukraine
Hungary
Hungarian Interchurch Aid ​
EUR 50,000​
Help for Ukrainian refugees in Slovakia
Slovakia
EUR 12,000
Helping refugees at Saint Joseph Parish, Budapest
Hungary
EUR 6,000​
Total
EUR 368,000
In 2021, around DKK 14.5 million (~EUR 2 million] was spent within a financial framework of 20m DKK (~EUR 2.7 million). That means around 75 % of the allocated funds were used in 2021.​